Assalamualaikum and hello ladies!First of all, I would like to apologize since I have been MIA for a few weeks already!Oh my!I do miss my blogsphere here and all my blog buddies.I can't managed to update my blog since my daddy hasn't pay any single of Celcom's broadband's bills.Not only I can't blog but also difficult to finished off my assignments.Yet,I have been struggle with Flickr just now.Probably,my pictures are too big.Hmm...Well,I know I am such a bad blogger,sorry!! I have also a ton of assignments need to be done!But,we're almost in the end of Syawal,isn't it?Here are my POTD of my Hari Raya this year.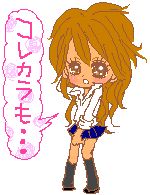 Shawl:no brand(bought in Tesco)
Baju Kurung:First Lady
Bracelet:Habib
Watch:Guess
Bag:Hbg(Japanese's brand)
This year,I have decided to wear a Baju Kurung.Actually,it is in dark purple colour,I am afraid some of you might think it's blue colour.Pardon me for a bad qualities of my camera.I took this pictures during the night.
This year also, I do embrace girly&sweetness when I wore and match with something like this.
My raya are just average this few years.I do not really celebrate it last year but I do celebrate in fun way this year.Tehehe..
Shoes of the day from Bata,sigh,my father didn't allowed me to take wedges because he wants me to choose the shoes that is convenient and comfy when I drive a car so I opt for a this shoes,hence this shoes do fulfill on my needs.
Camwhore,camwhore...inside of the car on our way to my Tok Teh's house in Pendang.
That's all,ladies.Sigh,I have tones of assignments need to be done,so Fighting!Thank you for reading this entry,y'all!
xoxo,
hannah