Assalamualaikum semua!Maaf sebab dah menghilangkan diri buat sementara waktu.Sudah seminggu aku dah demam.Aku tak tahu lak pulak sebabnya.Maybe,pressure kot?Ini pun dah separuh lega jugak.Bukan aku seorang je yang demam dalam rumah ni,mama&abang aku pun sama.Dah hampir seminggu jugak kami semua makan sepapan panadol actifast.Thanks to that!Aku pun merasakan dah hampir puluhan ringgit melayang sebab beli papan panadol je.Ok,full stop.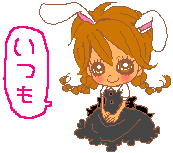 So,aku ini pun dah lama tak tulis pasal kecantikan dalam blog ni.Asyik tulis pasal Fashion Jepun je.Maklumlah,kesukaan aku la katakan.I'm right for my blog!Hari ini aku nak menulis sikit pasal eyeliner ni.Eyeliner apa ya dalam bahasa Melayu ni?Dah lupa dah.Baru tinggal sekolah selama setahun baru.Omai..Aku pun baru kehabisan eyeliner dan eyeliner dah jadi macam sahabat sku bila aku tak ada masa nak pakai makeup bila nak keluar.Aku ni pun malas nak pakai makeup banyak2.Pakai sikit aje dah nampak simple.
Memperkenalkan,Super Jet Black Eyeliner Marker 24-hour dari Heavy Rotation.Panjang jugak ek nama ko ni ye?Heavy Rotation ni pulak berada di bawah pengurusan kiss me makeup.Senang kata,salh satu daripada makeup Jepun.Mula2 tu,aku malas nak beli benda ni masa shopping kat Sasa Alor Star Mall,Kedah.Datang pulak salesgirl ni yang banyak mulut syok buat promotion kat aku time tu.Dia kata yang ni tengah sale half price kalau beli dua.Itu sebablah aku pun beli dua dengan harga yang murah!Me like it!
Apa yang aku suka sangat pasal eyeliner ini ialah ia membenarkan kita melukis garisan mata kita sama ada tebal mahupun nipis.Seterusnya,ianya cepat kering!Kalau bab eyeliner ni,aku selalunya tidak ambil kisah pasal waterproof tapi yang ini waterproof dan tahan lebih lama.I mean,tahan lama kalau kita pakai lama sampai pukul 12 tengah malam pun eyeliner tu pun masih ada kat situ.Haha!
Menggunakan teknologi Jepun,ia mudah untuk dibilas dengan air suam!Kalau mandi pakai air suam pun,senang aje nak remove ni!
Aku sememangnya seorang yang suka pakai eyeliner tebal.No doubt!Benda yang membuatkan aku lebih jatuh cinta dengan eyeliner ini ialah ia mengandungi hyaluronic acid.Bahan untuk melembapkan mata kita.Ala,benda inilah yang korang selalu dengar&tengok kat Hada Labo tu.
Benda yang paling aku tak suka pasal benda ini ialah,harga aje.Secara keseluruhannya,I absolutely in love with this eyeliner!Nak beli lagi tak pada masa hadapan?Sure!Oleh itu,aku bagi..
Wow!Lima bintang yo!Terima kasih kerana membaca blog saya dan sehingga kita bertemu lagi!Jangan segan silu untuk meninggalkan komen anda!