Hello there!True to say,I hate the new thing about blogger!It make it more difficult to me.Does anyone know how to return like a usual before this?Do leave your comments if you know it!Ok,full stop.I wanna continue to my blog post.It was about Super Girl Festa in Taiwan and Liz Lisa's show in Shanghai,China.First of all,let's go for a super girl festa.Maybe my blog will be full of pictures this time.I feel some sort like a fashion reporter now!It was being held in Taiwan and I don't know which area,maybe in Taipei.The festa has been attended for about 8000 people!Can you imagine it?This event also have been attended for a several famous gyaru models.And yes,these both events(Super Girl Festa&Liz Lisa)held on last Sunday,this week.I don't wanna talk more.For futher,enjoy the pictures or just enjoy over descriptions!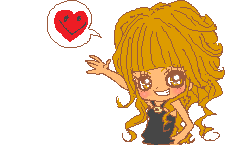 Tsu Chan hold the poster during her stay in Taiwan.By the way,love the slogan on the poster above.
Oh my!Lena Fujii from ViVi looks sooo pretty here!I wanna steal her dress,aha!
From Tsu chan's photos
Looks,Kumicky was there too!Sorry,I didn't know the rest of them instead of Kumicky >.<
Sorry if the photos are smaller!Click on the image if you want the bigger size
Kozue if I'm not mistaken.
Alolo,cutie Kumicky!
Prepare for the cutie picture!
Tadaa!Milky Bunny walking on the runway too!
Talk,talk and talk.
Hei Se Hui Mei Mei Taiwanese girl band not to miss this events too!
I'm jelly seeing Mei Mei got the Candy Doll folder for free!Ah,I want it too!
Milky Bunny after the shows
Wow,affordable Dolly Wink's makeup at Dolly Wink&Candy Doll booth!
Dolly Wink
Candy Doll's promotions at the Candy Doll&Dolly Wink's booth
I bet that you guys must be wondering what the gyaru's are doing after the event,right?They(Kumicky&Tsu Chan) went for a shopping together in Taiwan.
Kumicky,can u give that to me?It looks soo freak!
Overall,I do enjoy the events although I cannot attend it by seeing all this pictures!huhu :(!Ok,let's go on to the another fashion event.The Liz Lisa's shows was held in Shanghai,China and Shiina Hikari,Mai Hirose and Mizukitty were invited to the shows and they are the special guest on that day.Once again,enjoy the pictures or just over decsriptions!
Cutie Mizukitty
Can you spot Mizukitty was holding the Popteen May which was featured her on cover?
Three of them in Liz Lisa's shop in China
I'm sorry since I only have a few Liz Lisa's photos compared on Super Girl Festa.I hope all of you gyarus do enjoy this post.Yeah,Johnny English is about to begin.I have to go now.Love you guys!Photos Credits:Marked.
hugs&kiss,
xiao han