The school are already in two weeks.Although I am not celebrated the CNY(Chinese New Year),but the heat of it can feel it starting from last weekend.Went shopping last Saturday and damn!I couldn't resist myself seeing fresh trends that ready for Spring.My eyes being hurt for already two days but thanx to my mom,she reduces it.Mommy always know the best!Today still feel quite hurt but not as hurt as the first day.Hmm,probably I have to reduce wearing to much eye makeup?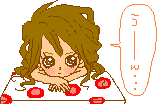 But first off,do you guys outside there are huge fans of WC?If yes,then hold your breath!Tadaa!The new Wakatsuki Chinatsu aka well known as WC items are up for the new year,dragon year of 2012.Please scroll down over description or just enjoy the pictures.
The new WC plushie toy!
Sigh.I wish that minimaos.com got the brown wc blazer.*touching forehead*Am I going to fever?Maybe got jangkit with bro-in-law.Somehow,Happy early Dragon Year or Xin Nian Kuai Le or Happy Chinese New Year to my fahrenheit's fans,blog readers and bigbang's fans!
hugs&kiss,
miss xiao han
Konichiwa .
Hannah. I am ultimate Kedah --> Kuala Lumpur Social Media and Lifestyle Blogger. Mama's princess and Daddy's lil girl.